Despite new build properties are cropping up by the thousands across the UK, the government's previous aim to build 300,000 new homes each year was falling short. Land is becoming a precious resource. Our green spaces and picturesque countryside's are diminishing. Yet over 268,000 homes in England alone were empty for at least six months, according to Government figures in November 2020. For investors, this can be a great opportunity. Here, we discuss how to buy vacant property and how to finance it.
Source: Gov.uk
The rise of vacant property
In our latest independent research, we uncovered that 52% of UK adults find the housing shortage to be one of the biggest social issues currently facing the UK. With demand for property at an all-time high, 26% of those in our survey said that the shortage of houses has prevented them from getting onto or moving up the property ladder. Since the end of the stamp duty holiday, the UK has found itself stuck in one of the worst housing crisis of its time.
How to find vacant property
Before we consider how to buy vacant property, you got to find it first. Uninhabited houses are easy to identify:
Windows and doors are boarded up or broken
No curtains in the windows
The general impression of the property is run-down
Pilled-up post, notes and junk mail
Untended, overgrown front- or backyard
No cars parked in front of the property
9 ways to find vacant property:
Drive around & keep your eyes open: as you know how to identify unoccupied properties, this can be an easy and quick way to get an overview.
Estate agents: they know their local area best. Although they might not advertise vacant property actively, they might still have some for sale.
Local post office: the staff at your local post office usually knows which homes cannot be delivered to.
Auction houses: Auctions are quick ways to get rid of & buy vacant property. See our full guide to property auction finance here.
Local council: Get in touch with your local council and see if any vacant properties have been reported.
Building land for sale: often building land is up for sale but has a property on it that needs demolishing.
Land registry: the land registry records the owner of most properties. It's publicly accessible, so it'll be easy for you to find the owner of your chosen property.
Empty property websites: a simple search online reveals plenty of websites with vacant property to buy.
Derelict historic buildings: many historic buildings are listed to be at risk and often abandoned. It's worth to inquire with the owner if they are willing to let you use it.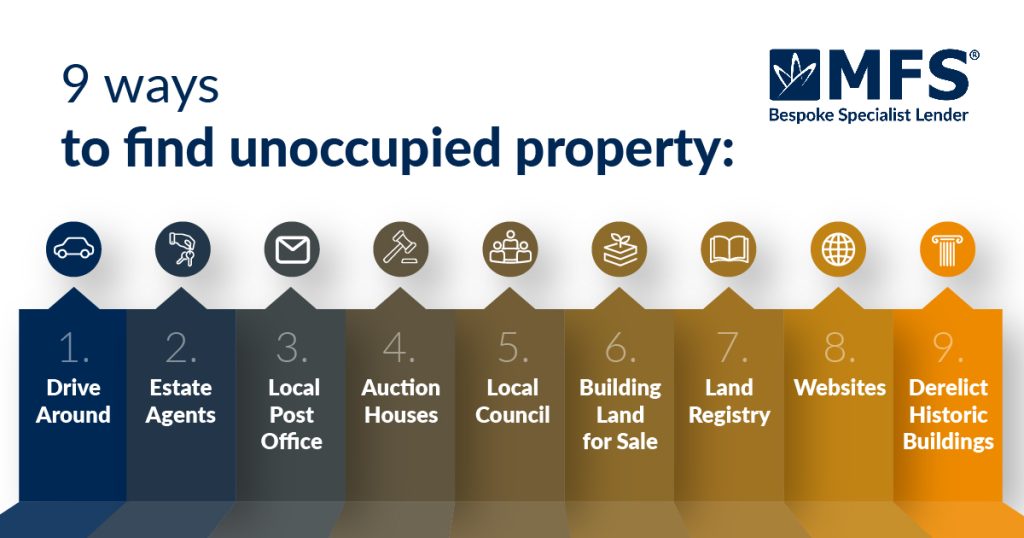 The opportunity to buy, refurbish and refinance
To buy, refurbish and resell unoccupied properties offers a fast return for investors. Due to the building's standards, properties in need of refurbishment often go on the market at a reduced in cost.
There are plenty of ways in which you can revamp old properties:
Restyling and re-modelling interiors
Transforming houses into flats
Converting old commercial buildings: old barns and churches have been popular conversion targets in recent years
Buying and refurbishing a vacant property can be a great way to increase the yield on a property portfolio. They are a popular choice for many buy-to-let landlords and property investors.
Restored empty properties can become the future of property investment. They have excellent features that are increasingly hard to find:
Large garden area
Spacious interior layout, giving more options for layout
High ceilings, creating the illusion of a more open atmosphere
Original features that provide the refurbished property with 'character'
What to consider when buying a vacant property?
Of course, like every investment opportunity, property investment relies on 3 key factors:
1. Location
If you're renting – what kind of tenants are currently in the area? Are these tenants right for you, or your asset?
2. Cost
It is important to consider not just the property's price, but also the building costs required. Getting quotes from builders before investing – if possible – is always a good idea.
3. Timing
Investment opportunities disappear quickly, so funds need to be ready. It is imperative to understand your timeline and make sure that your finance solution fits with that. Including scope for snags along the way. A refurbishment bridging loan can cover issues with cost and timing, using resale or refinance as an exit strategy, and funds can arrive in your account in days.
How to buy vacant property?
Private Bridging Finance
The ability to convert a spacious house into individual dwellings, is an appealing alternative for landlords when buying vacant property. Buy-to-let refurbishment bridging finance could see funds in your account within days, rather than months. This means conversion works could start imminently.
Government funding
Government funding for refurbishing unused properties is available. Although it can be a lengthy process to obtain this funding, the benefits of refurbishing an older property can be significant. Whilst government refurbishment finance / funding can be time consuming and complicated, a refurbishment loan could be a fast alternative to take advantage of. Find out how MFS could help you renovate your next investment on our permitted and light development bridging loans page.
Vacant property is not the end
By buying and developing vacant property, we can spare the green areas of land left in the UK and provide thousands of new homes. This will benefits not only property investors, but ease the negative effects of the housing crisis and boosts the economy.