A Simple Guide To Advance Your Portfolio
Comprehensive 30-page guide
Understand the property auction finance landscape
Access to useful tools
For brokers & direct clients
For beginners & experts
Get your free Auction Finance Guide below.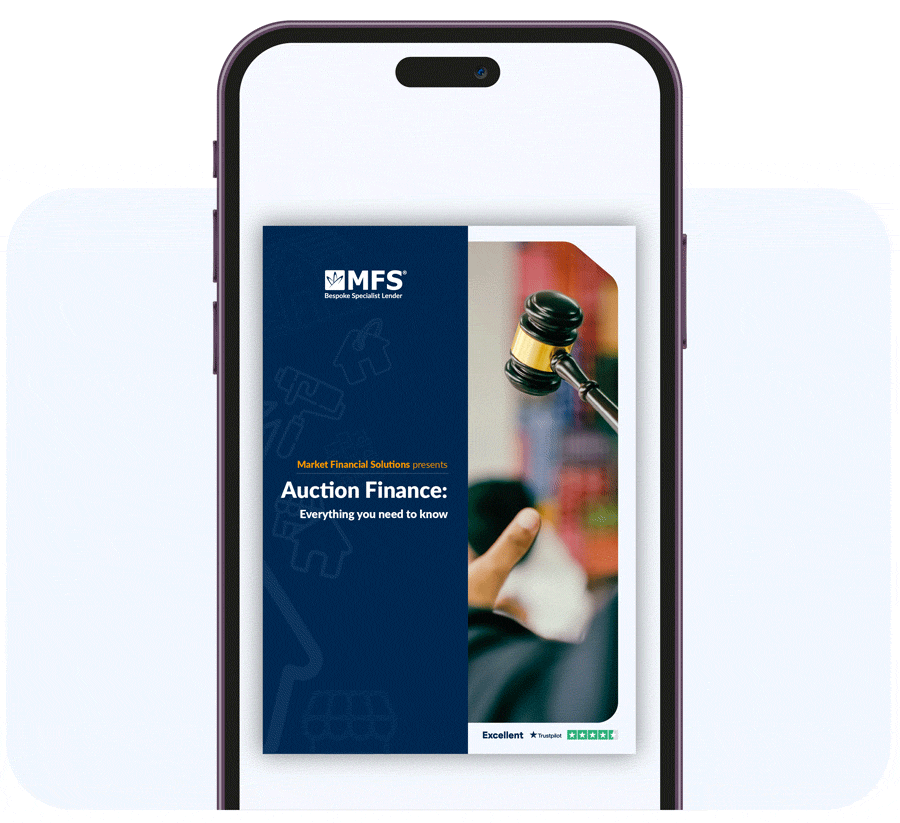 Your A-Z Guide to Auction Finance –
Everything You Need to Know
This guide will break down everything you need to know about property auction finance, the bidding process, and how specialist finance can support your investment goals. Property auction demand has ramped up in recent years, driven largely by the digitisation of the industry, and consumer demand for swifter transactions.
But as demand has risen, so too has competition. The bidding process can be over in a flash, and so bidders will want to make sure they have their finances organised for when the gavel drops. There are many different elements to auction finance, but this guide will help you bid with confidence.
What is auction finance?
Auction finance, broadly, is defined as a form of specialist finance used to purchase a property at auction, and aid with the completion. While it's possible to get a mortgage for an auction, specialist loans are commonly used due to their flexibility and speed – 2 key elements needed for the auction world.
At MFS, we provide flexible specialist auction finance, up to a maximum Loan-to-Value of 75%. We offer various term lengths, with both fixed and variable rates available.
Our auction loans are designed with the rapid pace of auctions in mind. They can be issued in as little as 3 days, allowing you to meet tight completion deadlines. Arranging this finance in advance at attending a property auction allows you ti bid safely and within your financial limits. It can also bestow a sense of confidence, knowing that you have the finance at hand, ready to go, should your bid be successful.
Types of Auction Property Finance
There are different types of property auction finance available in the market. They are divided in short-term and long-term finance and tailor for all different kinds of circumstances. However, all auction loans have in common that they are readily available to secure your auction purchase.

Residential Auction Finance
Residential auction finance is for investments in residential properties. This means the underlying asset(s) will be used for residential purposes – including being rented out to tenants, or sold on to other buyers.
There are many types of residential properties that can be bid on with auction finance. These range between standard properties, through to the more unique options. At auction houses, common examples may include:
houses
flats
ex-local authority properties.
Our residential auction loans are solely for property investors – those who will rent out the property, flip the asset for a profit, or otherwise add to a property portfolio. Applicants cannot use the capital to purchase a property they will then live in themselves.
Bidders will need to have an exit strategy in place to cover the short-term loan, which could include moving onto long-term finance like a mortgage, or selling an asset to cover the repayments.

Commercial Auction Finance
Commercial auction finance is for investment in properties that will be, or have been used for business purposes. Common examples include offices, bars or restaurants, or warehouses. This also covers D1 commercial properties such as student lets, light industrial units, and HMOs.
We can also provide auction finance for semi-commercial, or mixed-use properties. This broadly includes properties that feature residential and commercial elements in the same space/building. For instance, shops with flats above them would fall into the mixed-use bracket.
Also, across all our property auction finance variations, funding is available for property investors expanding via a corporate, or commercial setup. In addition to individual borrowers, we're able to work with the self-employed, limited companies, LLPs, SPVs and more.

Refurbishment Finance
Refurbishment auction finance is available for property investors who need to invest in their property's potential, desirability, or utility. Some properties are
listed at auction due to their condition. This could be down to long-term vacancy or damage that has been sustained which has made the property difficult to sell on the open market. As such, refurbishment work may be needed to bring the asset back to life. It is always wise to view properties being sold at auction in person, ideally with a property developer or trusted builder, who can provide a rough estimation of damages and potential renovation costs.
Refurbishment finance can be used for cosmetic changes, such as remodelling or installing new features. This can be referred to as light development. However, funds can also be used for larger, complicated renovation projects where the property in question may not be suitable or safe for habitation yet, and so certain repairs must be carried out; this type of refurbishment finance is also known as permitted development finance.
Permitted development finance can also cover any conversion plans you may wish to carry out on the property. Such changes may require planning permission from your local council, so be sure to check before you bid. Examples of these works could be that you are looking to invest in an unused office block at auction, but have plans to convert the building into new flats.
Refurbishment auction finance can support fix-and-flip strategies – where the condition of the auction finance property is fine, but cosmetic changes are made to make the property more aesthetically desirable for your intended market.

Large Auction Finance
Large auction finance is available for property investors who are making particularly large bids. Typically, these larger loans will be used for substantial properties, or highly desirable locations; such as Prime Central London or busy commuter towns.
For residential purchases, you may need a large auction loan if you're bidding on a luxury property, such as a mansion, or penthouse. You may also need a larger loan if you're bidding on a collection of units, as opposed to a single property. A common example being blocks of flats, rather than individual apartments.
The location of your targeted property, or properties, may also warrant a larger loan. If you're bidding on an asset in Prime Central London for example, your investment may easily stretch into the millions.
Property Auction Finance for Foreign Nationals & Overseas Entities
If you're bidding as a foreign national or overseas buyer, our property auction finance can support your end-goals. Across all our products, we're able to consider applicants from any country, other than sanctioned countries.
So long as you're aged between 21 and 85, we may be able to support your bidding. We can work with expats, offshore individuals, trusts, companies, complex
structures, and more. What's more, you don't need to own assets in UK to be eligible for funding.
We're able to work with overseas investors just as easily as we can with domestic applicants. Throughout the process, you will have a dedicated MFS underwriter who will be on hand, but please take into consideration any applicable time differences.

Refinance
While our auction finance can support your shortterm bidding goals, you will need to prepare for the long-term. You will need an exit strategy at the ready to cover the funding and fortunately, we have other specialist products which may be able to assist with this.
A common exit strategy for auction finance applicants is to move onto a new form of funding, which can be done through our buy-to-let mortgages. If you're
planning to expand your BTL portfolio, or move into the landlord market for the first time, you may be able to use an auction bridging loan to purchase a property, then move onto a bespoke BTL mortgage and rent out the space to tenants.
Our buy-to-let mortgages offer fixed and tracker rates with a maximum LTV of 75%.

How do auctions and auction financing work?
Generally, auctions fall into 1 of the following categories:
Traditional auctions usually need to be wrapped up within 28 days, while this deadline stretches to 56 days for modern auctions. Virtual auctions take place online and the bidding can last for a while, sometimes ranging between 7 and 30 days.
While there are few key differences between these categories, there is a broad shared structure for how they work, and how you'll need to prepare. Prior to the actual bidding date, you'll want to identify the lot(s) you'll want to bid on. The details of which will typically be published on auction houses' websites around 4 weeks before the auction. If possible, you'll want to visit the property ahead of time, preferably with tradesmen for an initial assessment of the property.
If you're happy to progress, you'll then want to download the legal pack for your solicitor to review, commission a survey on the property if possible, and arrange your finance ahead of time. For auctions, there are specialist forms of finance like auction bridging loans available, but it may also be possible to get a mortgage organised.
If you're bidding in person, you'll want to arrive well in advance to register and get prepared. You must remember to bring 2 forms of ID, along with a 10% deposit. Once the actual bidding starts, you'll likely just need to raise your hand to bid. You may also be given a paddle to raise.
The highest bid will win. And once the gavel drops, the sale is locked in, and you'll need to put your 10% deposit down. Typically, sales are completed within 28 days, so you'll need to have your property auction finance sorted or at the very least, coming to the final stages.

Which properties can I get auction finance for?
Auction finance can be used for a range of properties that turn up in auction houses. This includes residential assets, commercial spaces, and mixed-use properties.
For residential properties, this includes simple investments, such as flats, through to more complex properties like HMOs. Commercial lots may include offices, stores, or even barns.
Mixed-use buildings will feature elements of both residential and commercial spaces. A common example being a flat situated above a pub.
What's important to remember is the potential state of the properties you'll find at auction. Often, auctions are turned to when properties aren't selling through the usual routes, or they need to be offloaded fast. This means the properties that turn up may be debilitated, unusual, or even just undervalued. As a bidder, you could take advantage of this. You may be able to lock in properties at reduced prices and turn them around for a profit.

Advantages of financing auction properties
Having your property auction finance sorted as you get ready to bid can present several benefits. You'll have capital at the ready to keep up with the pace of the auction world. But on top of this, you'll have a clear outline for how high you'll comfortably be able to bid.
Going into an auction without having funding secured could present risks. Without knowing exactly how much capital is accessible to you, you could be at risk of going beyond your budget. Additionally, you may miss out on lots if you're too hesitant to bid on, due to not knowing your maximum limit.
The flexibility of auction finance can also help where the mainstream options are limited. High-street lenders may only be willing to lend on "vanilla" property types. But, here at MFS, we're happy to provide flexible finance for a broad spectrum of unique or unusual properties.

How does the auction finance process work?
Our auction finance application follows a simple process. Once we receive an initial enquiry from you – which can be done online, over the phone, or via email – we will respond within 4 hours. Indicative terms will be issued and so long as you're happy to proceed, we'll provide a Decision in Principle (DIP) following a more in-depth analysis on your details.
Valuers will then be instructed to visit the property, or properties, in question which will validate and confirm the terms detailed in the DIP. From here, we will work with trusted lawyers to organise the necessary paperwork and due diligence to move your application to the final stages. Finally, you will be able to draw down the loan and use it for the auction.
All of this can be completed within as little as 3 days, leaving you with time to spare to meet the auction house's tight deadlines.

Can you bid at an auction subject to finance?
In theory, yes. But in most cases, you'll need to at least have your deposit funds ready to go should you win. Typically, a 10% deposit will be needed to secure a property at auction. So long as this is covered, you could then arrange finance within the completion deadline, which usually sits around the 28 days mark.
This is where bespoke, specialist finance can come into play. While it's possible to get a mortgage for an auction, it's unlikely the funding will be issued in time for completion if you only get the ball rolling late in the process, or even after the bidding. But, auction bridging finance can be issued in mere days, even in the face of economic complications, or a difficult market. Generally, it's in your interest to have your finance sorted, or at least some clear numbers agreed, ahead of the bidding.

What happens if finance falls through after auction?
If your finance falls through, and you fail to complete on the transaction, you could face costly repercussions. At a minimum, you'll likely forfeit the 10% deposit, which could equate to several thousand pounds.
But on top of this, there may be other fees and penalties levied. You may also be liable for covering some of the seller's ongoing costs. Sellers may incur additional costs due to having to sell the property again, holding the property while new buyers are found, or selling the property for less than what you bid on it.
The seller may claim for all these losses which you could end up being liable for. Also, the auction house(s) itself may put a black mark against your name if you consistently fail to follow through with your bids.

How to finance auction property?
To get the ball rolling on your property auction finance application, you'll need to send through an initial enquiry. To contact us, you can reach out online, call us, or send an email. Regardless of how we're reached, we vow to respond to all enquiries within 4 hours. From the outset, you'll have an assigned underwriter who will get in touch with you to get to grips with your situation.
This underwriter will then guide you through the application process – organising all the necessary due diligence, arranging valuations, and working with the solicitors involved. Generally, we find that our loans are issued in around 2 weeks or so. But, we're able to provide auction finance within 3 days of an initial enquiry. The crucial element to remember though, is that we can deliver the capital you need with plenty of time to spare.

Is foreclosure auction financing any different?
Foreclosure auction finance is specifically for properties that come to the auction market through repossession. A repossessed property is one that comes under the ownership of a lender, usually a bank or mortgage provider, where the underlying borrower has fallen into arrears and can no longer cover their repayments.
The lender involved can put the property up for sale to try and recoup some of the costs associated with the original loan. This can be done through estate agents, at auction, or via other means. The owners of these properties will likely want to attain a quick, uncomplicated sale to try and balance their books.
Auctions can provide a solution here, and bidders may be able to find a good deal on repossessed homes. Our property auction finance can be used for foreclosure or repossession bids.
Useful tool:
Auction finance Calculator
Our auction finance calculator, available on our website, is a free-to-use tool that allows you to work out how much you may be able to borrow, repayment costs, and whether we'll be able to provide you with the auction finance LTV you need.
The calculator requires a few basic details on the property you're bidding on. As you enter data, the costs will be updated. However, the results will be calculated estimations. For exact quotes, please reach out to one of our underwriters.
Our calculator is split into two sections. There are some boxes, which will require the figures for your bidding situation, and others, which show the results of the calculation. This includes an applicable LTV, loan amounts, and monthly repayments.
You'll need to provide some basic details on the property you invest into. We'll need a value and the size of loan you require. Obviously, this will be dependent on how high you're willing to bid. You'll also need to think about your expected term.
Finally, you'll be able to select your preferred interest payment plan. We have 3 options available:
rolled up
part serviced
pay interest monthly.
Also, you can vary interest rates and arrangement fees in the calculator to see how they'll affect the repayments. Our available rates will be dependent on the type of investment you are looking to make, as well as the LTV you are looking for. Our arrangement fees start from 1%.
At the bottom of the calculator is a "contact us" button. This will allow you to reach out to our teams, who will respond to your enquiry within four hours.

Auction finance application
All our auction finance applications follow a structured 5-step process. You will need to send through an initial enquiry to get the process started. At the opening stage, we'll need a few basic details such as your name, age, and information on the property. An underwriter will be in touch to discuss your loan amount, the term, exit strategy etc.
From here, we will conduct an internal assessment to make sure your plans fit in with our criteria. If you're happy to progress, we'll issue a Decision in Principle (DIP). The DIP, and corresponding terms, will be subject to our own due diligence, and legal reviews.
If you're happy to agree to the terms, you will need to cover the initial fees. We will then move through the necessary anti-money laundering (AML) checks, and instruct the valuers to progress. When we receive the valuation report, we will review the details to make sure everything lines up.
From here, we will work with trusted solicitors to move towards the completion stage. The lawyers will progress with their work, and the final documents will be reviewed by us and combed over for the concluding audit.
Once everything is signed, sealed, and delivered, the funds will be transferred for drawdown. The capital will be with you to put towards your bid and cover your auction costs. What's important to note is that throughout this process, you will be kept in the loop. Your assigned underwriter will be there to answer any questions you may have, or update you on any complications that could arise.
Also, while you may fear that all the required due diligence could slow down the deal, all of this can be completed within 3 days if we receive everything we need quickly.

Do I need an auction finance broker?
At MFS, we work with both brokers and direct clients. There's nothing stopping you, as an investor, seeking out your own finance for auction properties. But, there are many advantages of working with a broker.
Generally, an auction finance broker assists borrowers in obtaining short-term loans to bridge the gap between property transactions. For investments at auction, this will obviously involve attaining finance quickly to cover the purchase within the tight timeframes involved.
Auction finance brokers will work to identify the most appropriate option for your specific circumstances. They will also seek out the best terms possible. This is where working with a broker may prove useful as typically, they will have built-in relationships with certain lenders. These relationships may allow them to have access to beneficial products and rates which may not be available to direct borrowers.
Brokers, especially those working with auction finance, may be able to offer a speedy process. They can save you time by doing much of the legwork on your behalf. Given their familiarity with the field, they'll likely be able to handle all the necessary paperwork swiftly.
While brokers can prove useful, you must also consider any potential downsides. For instance, while brokers may have access to a wider range of products, they may only work with a limited number of lenders. They may also charge additional fees that could dig into your budget.
Ultimately, you will need to determine if working with an auction finance broker is right for your circumstances. If you're unsure of where to start, you could look out for brokers who have certain qualifications or accreditations to their name, such as: CeMAP (Certificate in Mortgage Advice and Practice), an NACFB (National Association of Commercial Finance Brokers) membership, or the Certified Practitioner in Specialist Property Finance (CPSP) qualification.

Auction finance lenders & how to recognise a good one
If you're wondering how to recognise a good auction finance lender from a bad one, you'll want to identify if their services line up with the auction world's needs. We believe a lender that provides flexibility, speed, and adaptive criteria is primed to keep up with the bidding.
At MFS, we're flexible across every facet of our business. We're happy to lend on a broad range of property types, locations, and circumstances. We understand how even the most rundown property found at auction could still hold opportunity for investors.
And no matter where you as an investor come from, or how your background may look, we'll move quickly to provide you with the funding you need. Even if you have missed payments, CCJs, or overseas complications on your record, we may be able to provide you with capital in mere days.

Who we partner with
At MFS, our auction finance can be used at any auction house. This includes the larger, well-known houses through to the smaller players. Across England and Wales, there are over 30 auction houses. Some of these houses specialise in specific regions, while others offer national coverage.
There may also be some auction houses that specialise by property type. Some may only list residential properties, for instance.
Each auction house will have its own operational rules, and fees for both buyers and sellers alike. While there is a rule of thumb for a 10% deposit needed on the day, this may vary depending on the auction house so do check in advance. There may also be buyer's fees, a buyer's premium, or other contract fees. You will need to make sure your auction house finance fits in with all this.
Auction Finance In Focus
"The number of online listings increased 733% from 890 to 7,417 between the start of 2020 to the final 3 months of 2022" (The Times)
"In the final three months of last year My Auction had 77 per cent more lots to sell, with 38 per cent of properties being sold by buy-to-let investors looking to quit the market. " (The Times)
"According to Finbri, the auction finance company, the average auction property sells for 55 per cent of the price of the average UK home — so there are deals to be had." (The Times)
"Around 18,000-20,000 residential properties sell by auction each year. This accounts for around 2.2% of total home sales." (Home Selling Expert)
"It is evident when contrasting the bridging sector today against its pre-credit crunch standing, that the success story is predicated on not only attention to individual detail and flexible assessment of clients, but the innovation within the market. Where traditional lenders operate on a scale that requires risk-aversion in the face of economic upheaval, bridging lenders are freer to examine the real estate sector for opportunities, and so provide a crucial instrument in propping up the property market, and affording greater access to emerging opportunities." (Paresh Raja, CEO, MFS)
"We continue to see growing demand for bridging lending and the lender environment remains highly competitive." (Vic Jannels)
Case Study 1
Property investors are often keen to move as quickly as possible, given the competitive nature of the market. This is especially true for those investing through an auction and fortunately, we can keep up with the rapid pace of the bidding.
This is illustrated through this case where a borrower turned to us for help with a commercial investment they made at an auction. They faced a tight completion deadline, and it became apparent there would not be enough time to lock in a commercial mortgage for the purchase. Specialist auction finance was needed to not only cover the bid, but also set capital aside for remedial work.
While our underwriter came up against some issues during the assessment, they worked to find out just how much work was needed to support the deal. Our solution also helped deliver some breathing space for the borrower, who was then able to focus on their exit strategy.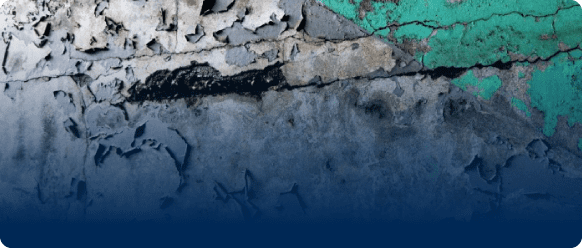 Case Study 2
Property auction finance can also be utilised by foreign national borrowers, who will benefit from the same levels of speed and flexibility that UK buyers receive. An investor, who was looking to expand in both the residential and commercial worlds with an asset bought at auction, turned to us for support after finding our details online. The clock was ticking, but with our extensive panel of valuers at the ready, we were able to wrap everything up within the client's tight timeframe.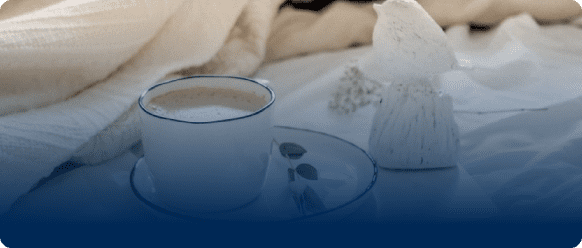 Case Study 3
We're even able to adapt where down valuations occur, after a deposit has been paid. We focus on a property's long-term potential and with this case, we saw that its value was likely to increase after planned refurbishment work. We re-issued terms, kept the buyer in the loop throughout, and released funds promptly so they didn't lose the deposit, or the property.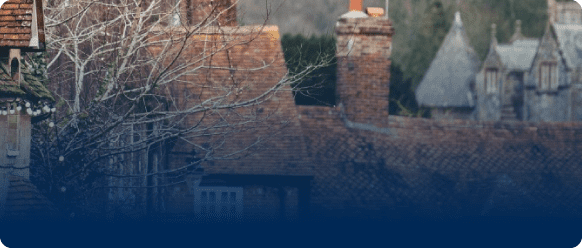 Conclusion
Property auction finance often needs the fastest response from us, along with the sharpest reflexes. We regularly have mere days to assess a deal, get the underwriting process moving, and wrap up all the legal due diligence. But, with over 16 years of specialist lending behind us, we're adept at moving quickly even in the most challenging of circumstances.
Demand has ramped at auction houses in recent years, but we have been able to keep up with this. Bidders who work with us commend our ability to remain calm, and professional in the face of looming deadlines, and stringent auction rules.
This professionalism extends to every facet of the auction scene. We're happy to hear from you regardless of whether you're bidding on a debilitated home, or a vacant office block. If you're planning to try your hand at bidding for the very first time, or if you're a seasoned pro who's adding to an already expansive portfolio, we're here for you.