When it comes to investing in UK property, it can be a challenge to find the right asset for you. It must be the right type of dwelling, in the right location, for the right price. Matters can become more complex if you want to buy a property via auction. But how do property auctions work? We will give you a thorough overview.
A rise in popularity
Property auctions in UK have seen a noticeable spike in the number of prospective homebuyers attending online auctions. It is important buyers understand how property auctions work from the outset. Once a 10% deposit has been paid on the day of the auction, the completion period is just 28 days. This is particularly important when it comes to arranging pre-emptive auction finance. Investors can then complete long before the deadline period.
Auctions have always been a popular avenue for seasoned investors looking to expand their portfolio. Whilst this increase in interest online auctions was instigated by the initial lockdown back in 2020, it hasn't faded.
Auction House found that the opening months of 2022 offered them their best start on record. So far, it has sold 1,606 properties from 1,957, achieving a success rate of 82%. The auctioneer has also raised £251,207,038 so far. It's the first time the company has exceeded the £250 million mark within the first five months of the year.
Source: National Property Auction, Property Investor Today
Like any auction, seller prices will be determined by the crowd in the room or online. This gives you the chance to buy a property under market value.

Why auctions are a great place to look
Property auctions have several advantages. They protect you from being gazumped whilst also removing the threat of broken property chains. Additionally, they offer the chance to find a property bargain unlike anywhere else in the UK property market. Buying real estate through an auction can allow property investors to purchase otherwise unattainable or expensive properties at a reduced cost on a quick timeframe. Large, older properties in need of renovation that can be converted into flats are often more easily available via property auctions than on the open market.
How do property auctions work on the day?
Now, how do property auctions work? Generally, property auctions themselves can be planned months in advance. In that time, auction houses release catalogues of their properties to bidders ahead of a determined auction date. These catalogues are often released just a few weeks ahead of the auction. There will be a guide price and a reserve price for each property. The guide price is the value the seller thinks the property in question is worth, while the reserve price is the minimum that'll be accepted. These prices can change right up until the day of auction.
On the actual auction day, investors will want to make sure they turn up with plenty of time. This will ensure they're settled and up to speed with any last-minute changes. Buyers should also be aware of the bidding's medium as they'll often be in person, but can also be done online, by phone or through a proxy. If investors are attending an auction in person, they will usually just need to raise their hand (or paddle, which will be provided by the auction house) to bid. As to be expected, the highest bid wins the auction. Once the gavel drops, the winner will usually need to put a 10% deposit down to lock in the sale. Sales are then completed within a month, a much quicker process than regular property purchases.
Your Property Auction Checklist
Knowing how property auctions work is only half the battle. It's important when purchasing an asset, that you conduct sufficient research before bidding. There may well be underlying issues that will need to be investigated and fixed. Without the correct research and understanding, this could cost thousands of pounds that hadn't been factored in.
Make sure thorough research is done by:
Completing background checks
Viewing the property
Getting a solicitor to read the document pack
But don't let this put you off. You just have to be able to recognise the key 'red flag' indicators that a property may be hiding a problem.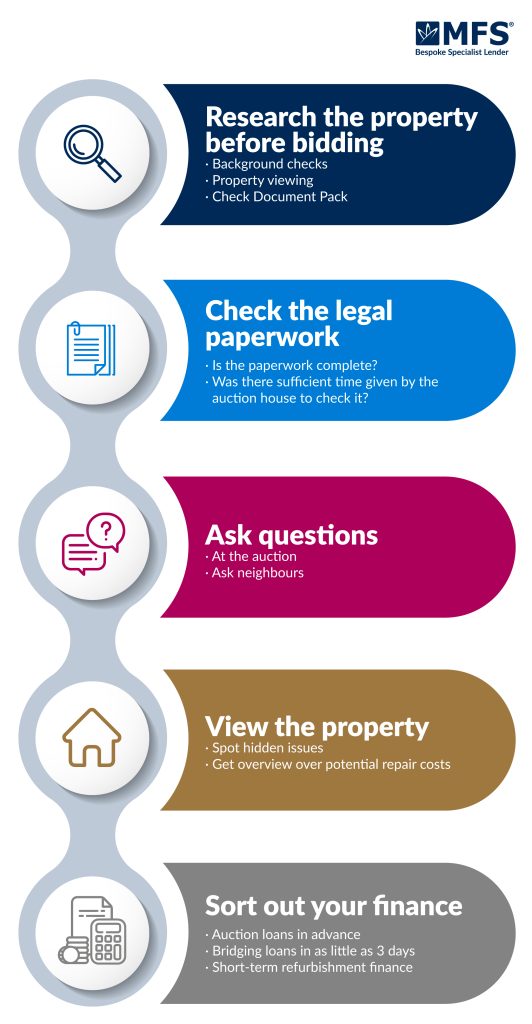 1. Check the legal packs
Auction houses provide certain documents as part of how property auctions work. They supply a document pack with all the necessary legal paperwork and additional information potential buyers need to know about a property. This gets uploaded within a certain time frame, that can change depending on the auction house. Not all aspects need to be included in this document pack so be sure you have a solicitor check the document for you, who should be able to let you know if any elements are missing. If there are, they may give you an idea as to what additional potential costs may come after the sale of the property.
Pro tip: Delaying the upload of a document pack until the last minute is another indication that there are elements the buyer should consider carefully.
In some document packs, there may be a 'special condition of sale' in which the seller states they take no responsibility for any issues found out after the auction. So do as many checks beforehand as possible, and build in a healthy contingency to the renovations budget.
2. Ask questions
Don't be afraid to ask a lot of questions about the property. This will give the best insight into the condition of the property and therefore how much may need to be spent on it. This is just how property auctions work.
We've written a few key questions to help get you started:
If a leasehold, how many years are left on the lease?
If the property already has tenants, are they longstanding tenants that will become your responsibility? How many years are left on their tenancy?
How old is the property? Is there asbestos or has it been removed already?
Was it on the property market before going to auction and if so, for how long?
Has it fallen through before and if so, how many times and why?
If you have the opportunity, speaking to the neighbours can give you a better insight as to how many times the property has changed hands, if it has fallen through and potentially if they've had any building work done.
3. View the property
As part of how property auctions work, consider a visit. Whilst it may have been challenging to view properties over the past couple of years, seeing the property for yourself is an auction must!
Asking a tradesman to accompany you can be a great way to get a fresh pair of eyes to help spot any 'hidden' issues. This can also give you a good idea of any additional costs you'll face once the hammer goes down.
4. Stick To Your Maximum Budget
Do your research and have an understanding of the market value of your chosen property. You can consult property agencies and online property portals for this purpose. Then define a maximum price you're willing to bid to on the the day of the auction and stick to it.
5. Organise your auction finance
Organising auction loans in advance will not only decrease the risk of the purchase falling through, but it also sets a clear boundary when it comes to bidding. When it comes to financing an auction property purchase, a lot of buyers can be caught out by the fact that contracts need to be completed within 28 days of the gavel falling – although this may vary depending on the auction house you use, so please check beforehand. This limited completion window makes it extremely important for brokers to understand the different finance options that can be used.
Using an alternative finance option to a mainstream mortgage, such as a bridging loan, has the benefit of the incredible speed and flexibility at which funds can be deployed, helping you complete long before the deadline. Knowing you or your client have confidence in the financial situation is what matters most to us – whether it be supplying an auction finance bridging loan, or even providing refurbishment finance after the sale so you can flip the property quickly.
Looking for more information on property auctions? Download our Guide to Property Auctions.