The buy-to-let (BTL) industry is booming. With demand for rental property on the rise, HMOs are becoming an attractive opportunity. Landlords can benefit from regular income, but also enjoy the capital growth of the property in value. However, there are some regulations to take into account when maintaining an HMO. Here is our HMO compliance checklist for you to check off every step of the way.
HMO regulations & other rules 
For England and Wales, an HMO property means 3+ people living together, from 2+ different households. They must share facilities such as bathrooms, living rooms and kitchens and can also be referred to as 'house shares' or 'flat shares'.
There are plenty of HMO regulations landlords must be aware of. These are regularly changing, too. HMO regulations range from minimum room sizes, to energy efficiency standards. Failing to meet these standards will result in heavy fines.
1) Gaining a License
The first thing on your HMO compliance checklist is your license. Do you need to obtain an HMO license before renting out your property? This can be dependent on two key factors:
If you looking to rent out a large HMO (a property for 5+ tenants, coming from more than 2 different households), then will require a license. If you do, you will need to speak with your local council.
Some councils have their own requirements for landlords. So it is always worth checking with your local council to see if their requirements are different.
Licenses can take time to be granted, so leave extra time to ensure you receive your license well in advance. Once passed, a HMO license is valid for a maximum of 5 years.
2) Minimum Bedroom Sizes
The second point on your HMO compliance checklist is to ensure that your property meets the minimum bedroom sizes.
A person of the age of 10 or over: 6.51m²
For a child younger than 10 years old: 4.64m²
For 2 people of the age of 10 or over: 10.22m²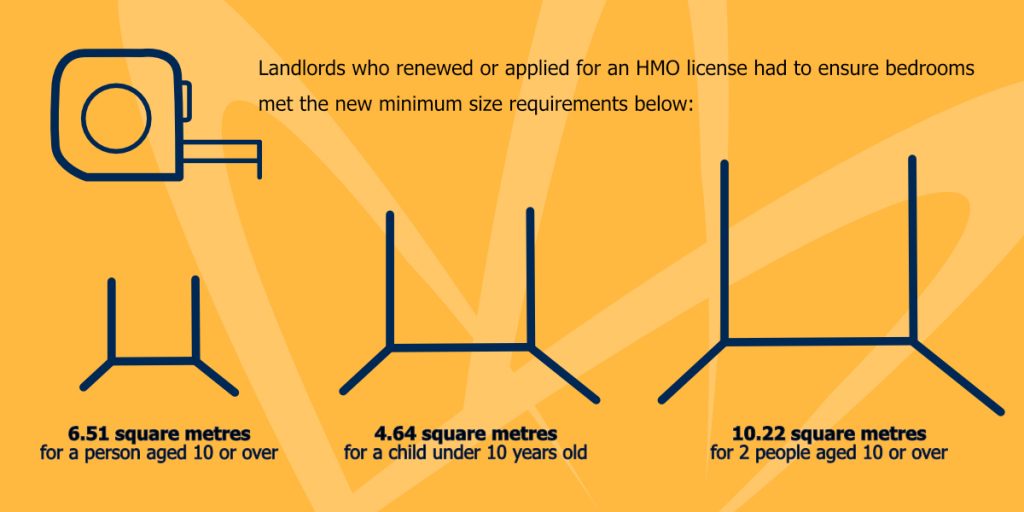 Different councils have different standards of living. That means that the requirements for bedroom sizes can vary dependent on the district.
Be sure to measure potential properties carefully, and always check with the local council guidelines before converting. If your room size doesn't meet the necessary requirements, you will not be permitted to rent the room.
3) Minimum Energy Efficiency Standard
The minimum rating required on the Energy Performance Certificate (EPC) is rising. As of June 2022, all rented properties must meet a rating of E for new tenancies and renewals. If not, your property is deemed 'un-rentable' and you could be fined up to £5,000 per property.
In case you haven't received an EPC for your potential or current property, it's important to do this before letting it out. If the level is below E, you will need to conduct improvement works to increase the property's energy efficiency level.
A good EPC level can be a huge selling point for potential tenants. It should therefore be included on any letting advertisements. There is no legal obligation to present the property's EPC, but it must be made available (and free of charge) for those seriously looking to rent the property.
Some properties, such as grade listed buildings, are exempt, due to their nature and inability to change structure and add insulation.
Source: www.gov.uk/government/publications/how-to-let/how-to-let#before-letting-your-property 
4) Certificates and Safety Requirements
As an HMO landlord you must ensure that your property has the following:
An Energy Performance Certificate (EPC)
A gas safety certificate
Electrical installation condition report
One smoke alarm per floor
CO detectors in any room containing a fuel burning appliance
5) Planning Permission for HMO Projects
This is the final thing to check on your HMO compliance checklist. Once upon a time, landlords could convert a property into a small HMO without planning permission.
In today's world, those interested in converting a property into an HMO must research the planning rules and regulations beforehand, by checking with their local council.
Whilst you generally don't need planning permission when converting from a dwelling house or flat to an HMO property, you need to contact your local council as different councils can have different regulations.
Bridging loans for HMO projects
As the age of first-time buyers rises, landlords are looking o welcome a whole new bracket of tenants. The "middle-aged renters". Which is why we're ready for the surge in demand of tenants. Our conversion bridging loans are here to support your HMO projects when you need it most.
When it comes to construction projects, timing is everything. Homeowners must ensure deadlines are met. Failing this, the project is at risk of being delayed. Or worst, left abandoned. When refurbishing HMO properties, it is often much easier for works to be completed in one go, and usually in a gap between tenants. Using a bridging loan can be a great way to ensure that all elements are covered. As funds can be released in days, works can start almost instantly, decreasing the time that the property stays empty. We regularly work with landlords to arrange bridging loans for these projects.
Get in touch today for more information on our HMO bridging loans.
Looking for more information? Try our last log piece Taking advantage of HMOs with bridging loans.