As restrictions lessen and the old ways begin to creep back in, it is natural to feel uncertain about the social changes we are coming face to face with. As a society, we are healing and the scars will serve as a reminder for the lockdown we endured as a nation to help protect our people, our NHS and our economy.
Post Covid-19 behaviour has been the central topic for many companies and there is concern as to how our attitude to spending and human contact will affect the current climate.
Commuter behaviour is already adapting, with face masks now mandatory when traveling on public transport. High street shopping is another area set to see drastic changes. Many businesses are now only accepting card and contactless payments, as companies ready themselves for the prospective measures they will need to implement.
After over 10 weeks of lockdown restrictions, the new public perspective on safety has forced our surrounding communal environments to adjust swiftly to impose a Corona-safe setting. Long queues have appeared outside supermarkets to limit the number of shoppers, sanitation stations are located at the entrance to disinfect shopping carts, and floors now use florescent stickers to signify a one-way system and 2-metre gap. People have also taken to disinfecting their shopping once they arrive home.
How deep these changes will alter customer experience and behaviour will depend on key factors:
How the government controls and decreases the lockdown measures
Restrictions in shops
The speed and number of the inevitable rise in cases after social measures are reduced on the 4th July and then the end of the furlough scheme in October
Headlines and social media coverage
These behavioural patterns are already being ingrained into our everyday lives, a consequence of the social distancing restrictions and the worries presented by headline news and social media. The demand for housing has already risen since lockdown was eased by Prime Minister Boris Johnson on 23rd May, but the uncertainty of Coronavirus isn't the only problem we need to face.
The UK economy is estimated to fall drastically by the end of June, as the quarter draws to a close. In order to move the property market forward, the country will need to present itself in a strong and controlled manor, encouraging spending and focusing energy on infrastructure and the housing crisis.
Confidence in infrastructure
Construction and manufacturing took the lead in integrating Covid-19 social measures into the workplace, becoming key figures in keeping the property market and the economy afloat. The Prime Minister actively encouraged workers who were unable to work from home, to return to site from the 11th May.
Estate agencies have also responded quickly to reattract potential buyers and renters. Many have provided videos and interactive viewings online and set scheduled visits for finished new builds and show homes, whilst providing mandatory masks and gloves. These small acts reinforce confidence for potential buyers and whilst things may never be the same, industries have evolved in light of the pandemic. The ease and effectiveness provided by many of the changes are likely to continue as part of the post-pandemic 'new normal'.
Regardless of health concerns and economic uncertainty, a spark of interest in property is catching, as both buyers and investors alike, long to continue with their pre-lockdown plans.
The demand for housing is showing a strong rebound, as the pressure of lowering property prices begins to ease. Knight Frank found that during lockdown, the average asking price discount in London was 6.4% whilst the average offer came in 10.2% lower than the asking price. Since reopening, as of 13th May, both figures rose alongside property interest, with the asking price readjusting to 5.5% and the average offer to 7.6%.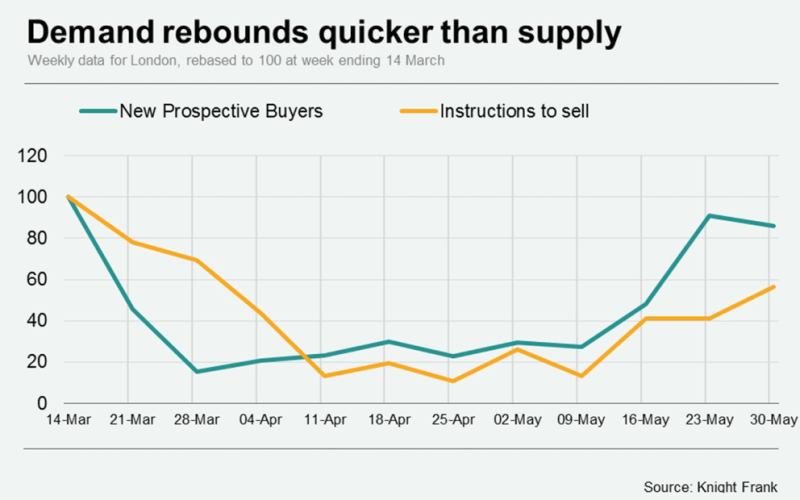 Possible Coronavirus Changes for the Buyer's Wishlist
The fear of a recession and a second wave of the virus is affecting not only customer behaviour, but also experience. Buyers are prepared to wait, on average, 6 months before considering coming back to look at the property market, according to a survey by Nationwide, with 12% having said they were put off moving during the lockdown period. Many are looking to avoid issues and delays that current buyers have been put through since the start of lockdown.
Despite the quick adaption construction sites have made in response to the new safety regulations, Zoopla has estimated that sales this year could be up to 50% lower than in 2019, even with many only being delayed until later this year. Consequently, buyers who have been hit with these delays have been left with expired mortgage offers whilst banks tighten criteria, or have been asked to provide an increased deposit due to economic uncertainty.
Working from home has been the biggest change made by most companies, since lockdown was implemented on 23rd March and it's an adaptation that many believe will become a part of the 'new normal'.
In 2019, an article in Forbes released that less than 10% of companies in the UK advertise an opportunity for flexible working, despite 80% of women and 52% of men seeking it within their next role. The idea of working between home and office has also resonated very strongly amongst millennials, with 92% identifying it as a top priority whilst job hunting.
In response to the pandemic, most establishments evolved to equip employees with the necessary tools to work from home, both for the initial outbreak, and should a second wave of Coronavirus hit. With increased appeal for this working lifestyle, could this pandemic alter the way companies feel about flexible working? Employees have spent weeks getting used to this new routine and it could become a pressure point for requesting change, now knowing it's feasibility.
How would this affect the housing market?
In our Homebuyer Wishlist 2019, our survey released the top 15 important factors potential buyers took into consideration when looking to purchase a property. The potential for extensions and conversions came close to the bottom of the list at number 14. But since lockdown, the ability to extend the property or convert a loft space in order to include a home office might now be front of mind for buyers and investors alike.
In a recent article, Homebuilding & Renovating reported that 22% of people have changed their mind as to what they deem to be the most important aspects for their home, stating that they are now considering improving their current living space due to Coronavirus.
During lockdown alone, 1 in 12 households invested in a new home office, a sign that attitude towards working from home as a part of the everyday life has grown stronger, especially for workers with children. This could boost popularity of sales of townhouses and 'two-and-a-half' styled homes, as they offer extra space without having to sacrifice a bedroom.
Estate agents have been reporting to The Guardian that they had an influx of prospective buyers looking towards the more rural areas of the country, or smaller towns. People seem to have concluded that home working is likely to become an integrated part of societies working lifestyle and moving to these locations is not only better value for money, but potentially better for health by allowing people to keep clear of busy, built up city areas to avoid Coronavirus.
Back to our Homebuyer Wishlist 2019, the proximity of public spaces and parks also rated quite low, another aspect we can believe to become of greater importance to people, especially those looking to purchase a flat or a property with a small garden.
With so much focus across social media on mental well-being, spending time outdoors is beginning to become an integrated part of people's lives. As someone who has spent the entirety of lockdown stuck in a one bedroom flat with no communal outside area, it is something that has become increasingly more important to me when looking for a future property.
2008 vs 2020: The Key Changes
Whilst there has been concern over Coronavirus affecting the house prices in a similar way to the financial crash back in 2008, it is important to note differences that have come into effect in recent months which could significantly change our current situation.
The Bank of England made the decision to cut the interest rate during the early stages of the pandemic at the beginning of March, reducing it from 0.75% to 0.35%. It then took a second emergency cut to its lowest level to date, 0.1%, later that same month. It has remained at this level for almost 3 months now, unlikely to take a third cut as interest in property has started to rise.
There has been great support from the government to help businesses and the general public alike, to keep employment high and encourage spending now that shops are re-opening. Their furlough scheme has allowed many people to remain employed and continuously earning, keeping spirits positive during these trying times.
Although set to end at the end of this month, deferral of VAT payments to help small businesses manage their cash flow during the outbreak has been another helping hand. Experts have also suggested cutting VAT in the aftermath of the crisis, as attempt to bring some positivity back into the British economy, but this is yet to be discussed by PM Boris Johnson.
Where does this leave us?
Consumer behaviour has of course changed, with the threat of infection at the front of everybody's mind. The government predicts only 5% of the British population have been infected to date and fear of a second wave once restrictions are reduced is understandable.
But it's not all doom and gloom. Lockdown appears to have developed a keen spike in the property market, as disrupted plans become available once more. With the 2-metre now being reduced to 1-metre and pubs, cafes and restaurants set to reopen on the 4th July, confidence is slowly-but-surely starting to rise.
Online auctions have also increased. Although the number of properties available have decreased, the average spend per property is climbing. For more information check out our property auctions and COVID-19 blog piece here.
We're providing regular Covid-19 property market updates, so download our latest update today. If you want to be the first person to receive our latest reports, then contact us and let us know today.