On 3rd March, Chancellor Rishi Sunak will announce the official 2021 Spring Budget, and his speech comes an important time. With more people receiving the COVID-19 vaccine, the government is keen to get the country out of lockdown as soon as possible. Part of this transition will include the provision of financial support for businesses and consumers affected by the pandemic.
The budget is an opportunity to explain to the public how the government plans to support the UK's transition out of lockdown. Property investors are eagerly awaiting the Chancellor's speech. This is because he is likely to announce whether he plans to extend the Stamp Duty holiday or not.
The holiday has been fundamental for the UK property sector. Although demand was high after the initial lockdown of March 2020, as pent-up buyers were eager to purchase, the holiday sparked a new flame. It became an interest to all homeowners, not just property investors. As a result, house prices rose by over 8.5% across the course of 2020. House value reached an all-time high of £252,000 in December.
Source: https://www.ons.gov.uk/economy/inflationandpriceindices/bulletins/housepriceindex/december2020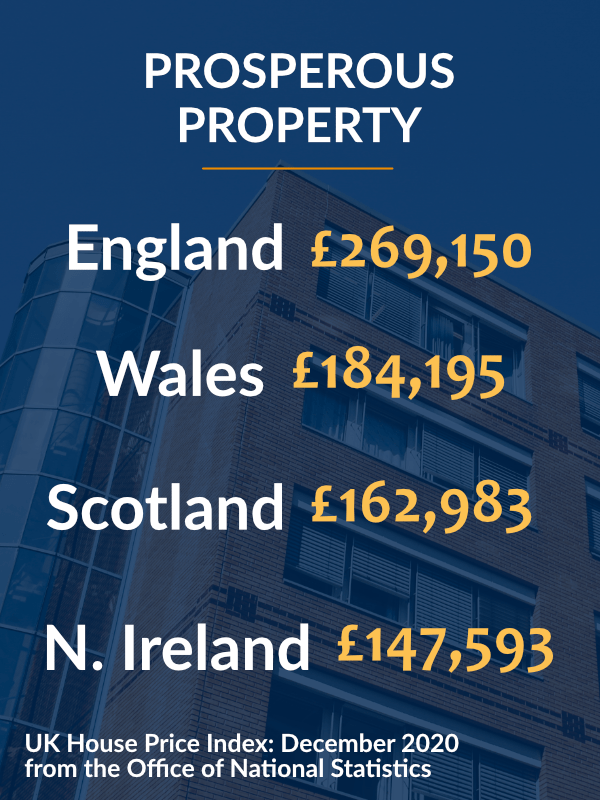 Effects of the Stamp Duty Holiday
With an increase of people spending time in doors and having to work from home on a semi-regular basis, demand for larger properties has grown. The holiday enabled homeowners, not just investors, to purchase large residential investments that were before unattainable, due to the cost of stamp duty land tax (SDLT).
Residential transactions (provisional seasonally adjusted) in the UK rose by 31.5% from December 2019 to December 2020. Non-seasonally adjusted estimated figures annual increase was 34.2% higher, with a total of 137,200 during the final month of 2020, due to the stamp duty holiday.
Despite the property spark burning in the hearts of many homeowners, there was an overall decrease in transaction. The non-residential figures were at a 10-year low when looking at the financial year to date (April to December), with the 2020-2021 estimates decreasing still. This could in part also be due to the stamp duty holiday, as a large portion of property investors have used the holiday to purchase in bulk – particularly buy-to-let properties. Buying a block of flats, for example, will be marked as a single transaction. Although the numbers may be low, the interest in the market is still clear, as house values remain high.Source: https://www.gov.uk/government/statistics/monthly-property-transactions-completed-in-the-uk-with-value-40000-or-above/uk-monthly-property-transactions-commentary
At the moment, the Stamp Duty holiday is scheduled to finish at the end on the 31st March. However, there are industry calls for this to be extended. This extra time would allow for those who have seen extended delays to their deals, to complete. Increasing the number of residential transactions for 2021. Our CEO Paresh Raja was featured in The Express offering his thoughts on an extension.
You can read the full article.
Predictions for the 2021 Spring Budget
Our team of property experts has put together a list of the reforms that the Chancellor could possibly announce in the spring budget next month, that would be relevant for property investors:
1. Reforming Property Tax
Based on the success of the Stamp Duty holiday, the property tax is more than likely to get a mention. There are three different announcements we could see:
Announce the Stamp Duty holiday will be extended
Confirm the holiday will end on 31st March
Abolish the tax and replace it with a new property levy
There are rumours the Chancellor is considering significant reforms to property tax, as well as a 6-week extension to the current holiday being reported in the press. Reforms include removing Stamp Duty and putting in place a new levy payable by homeowners. But for now, we must wait and see whether the Chancellor will use this budget as an opportunity for significant tax reforms rather than a simple extension.
2. Capital Gains Tax
Last year, the Office of Tax Simplification recommended equalising CGT rates with income tax rates. This would mean basic rate taxpayers paying 20% on assets and property, while higher rate taxpayers would have to face bills of 40%. There are also talks of having two separate CGT rates – one for businesses and one for investors.
3. Inheritance Tax proposals
The UK's Inheritance Tax (IHT) framework is very complicated. There have been several calls to simplify the process or replace it with an "estate tax." This would be a charge on all lifetime transfers at wealth. There would be exemptions for gifts and the rate could be changed to as low as 10%, if introduced.
While changes to IHT are constantly touted, the question is whether now's an appropriate time for these potential reforms is to be made
Looking beyond COVID-19
Leaving speculation of tax reform aside, one thing is for certain – the 2021 Spring Budget will focus heavily on COVID-19 and the next steps the country will take towards our Post-Pandemic Britain. The challenge for the government is making sure its policies support the recovery of the economy. Part of this solution includes measures that promote investment activities.
Any strategy must include the property market. As a driver of productivity and growth, it makes sense for the Chancellor to ensure more people can access new property opportunities. This is important not only in helping the UK economy transition out of lockdown, but will also establish the UK's position as a leading hub for real estate investment.
If you are interested in learning how UK bridging loans can be used for property investment, get in touch with a member of the MFS team.