Since the pandemic, space has taken up a higher priority with homeowners. If you have a loft, a loft conversion could be your opportunity to create more space in your own home. But what different types of loft conversions are there? What are the benefits of loft conversions and how could you finance them? We'll answer the most pressing questions below:
What is a loft?
Let's start with the basics. A loft is a space on the upper floor, directly under the roof of a building and is often used for storage. Some might call it the attic. Access is usually limited through a small door or hatch.
To convert or not to convert, that is the question
If a loft conversion is right for you comes down to a couple of key factors:
Overall amount you are willing to spend vs. the value it will add to the property
Style of the conversion you would like
How you intend to utilise the space
Lofts can improve your property portfolio, to increase storage in commercial properties, or even to your own residence. Whether you're looking to transform the attic into a master bedroom and en-suite, create a home gym, or even add a home cinema room, it's important to understand the different features available.
Top 11 benefits of loft conversions
Loft conversions are more popular than you think when it comes to UK property, particularly when it comes to those living in London. Here are the most popular benefits of loft conversions:
Short construction period: 6 – 10 weeks to convert (on average)
Adds additional living space
Viable alternative to an house extension
Can be turned into any space, eg. bedroom, storage or home office
Increases the property value
Utilises unused space
Creates a room with a view
Creates the opportunity to improve the energy efficiency of the space
Chance to clear out your space
No need to move house
Possibility to get creative
4 different types of loft conversions
Knowing what types of loft conversions work for your property will give you a better indication of what price range you'll be looking at.
1. Basic 'room-in-the-loft' conversion
A basic 'room-in-the-loft' conversion is as it sounds the most basic type of loft conversions. But you can still transform your space with this type of conversion. It usually costs £1,150-£1350 per square metre but will vary. So please ensure you have quotes from different parties before going ahead. This estimate includes the necessary fire safety measures and the features below: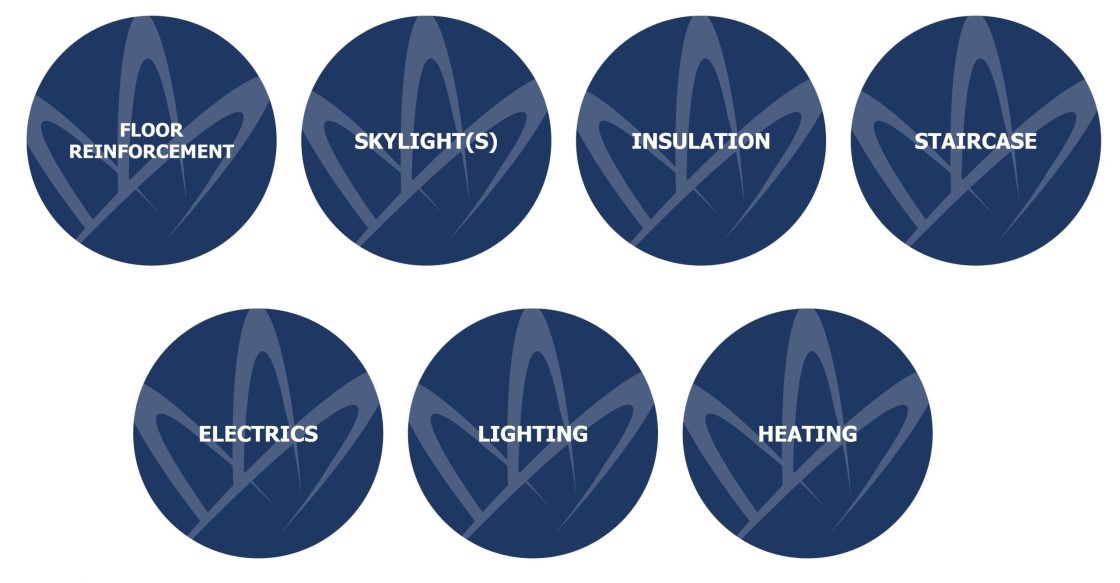 But there three other types of loft conversions that you should consider, as they are highly popular across the UK.
2. Dormer loft conversion
A dormer loft can be done with either a flat or pitched roof. A flat roof is one of the most popular conversions as they overhang straight from the roof, making it easier to install. Unlike a pitched roof, they offer a larger amount of floor space due to the vertical roof.
3. Mansard loft conversion
Mansard conversions will cost you, on average, £20,000 – £35,000 as they require a change in the roof structure. It alters the back of the house in a way that seems a part of the property. By integrating the extension, it becomes more visually appealing; seemly adding another storey to the house due to the almost vertical wall.
4. Hip to gable conversion
Another type of loft conversion is the hip to gable conversion. This could be an option or you if you own a bungalow or a semi-detached house. The lofts in these properties tend to have sloped side walls, as well as front and back. This form of extension removes those side slopes and builds up the end wall. This adds in a standard pitched roof, allowing the loft to have an area with full headroom.
Do I need planning permissions for any type of loft conversion?
For the most part, planning permission is not needed for your average loft conversion. However, there are certain restrictions which may mean that getting planning permission is vital for the work you would like. Some of these restrictions include:
No extension is to be higher than the highest part of the roof
Extending or altering your roof space beyond its current limits
It is always worth checking that your intentions fit alongside these restrictions.
How to finance a loft conversion
Once you have decided to convert your loft, the next big question is how to finance your loft conversion. Bridging loans are a flexible, short-term finance solution that can help you make your dream come true. Our conversion and refurbishment bridging loan is a fast short-term loan that can be used to upgrade your property, even in complex circumstances. The permitted and light development ranges from light refurbishment to structural changes, covering a large variety of modifications. No matter which type of loft conversion you want to attempt, whether you're looking to install a new bedroom, a gym, a home office or something else entirely, contact us today.