The boom in property has taken centre stage for sales in recent months – with countryside property sales picking up significantly for example. One thing that hasn't dipped is the demand for private rental properties all across the country. All areas of the UK have seen a monthly rise in the rental sector, with England seeing its highest median rent per month to date at £725 p/m; between October 2019 – September 2020 (Office of National Statistics).
In the past 12 months up to January 2021, the price paid by tenants in the private rental sector rose across the UK, as demand for buy-to-let increased. The region to see the highest annual growth in cost was Wales 1.6%, followed by 1.3% in England and then Scotland with 1.0%.
The South West and East Midlands saw the highest annual rise in rental price at both 2.2%, whilst London remained the lowest at 0.8%
Whilst the market came to a standstill during lockdown, the transition into the 'new normal' has seen a rise in demand for rental properties. Many overseas borrowers invest in buy-to-let, but the housing market has seen more overseas borrowers entering the market. Why?  From the 1st April 2021, there will be a 2% surcharge on SDLT for overseas investors looking to invest in UK property, which has meant that the property market is currently seeing keen interest by overseas investors who are looking to complete quickly to meet the deadline. This added interest in buy-to-let has helped further grow this currently booming industry.
Why is now a good time to invest in BTL?
The UK property market is home to many buy-to-let properties and the number owned by landlords has reached a decade high. But what does this mean for those looking to invest in BTL properties?
Average rent for England is currently at its highest price ever, at £725 per month, according to the Office or National Statistics, collected between 1st October 2019 – 30th September 2020. This is an increase on the from the previous year by 3.57% annual rise when compared to October 2018 – September 2019. With demand increasing, rental prices have also been rising, and whilst the market remains competitive, this growth is impossible to ignore.
Also, whilst the latest statistics from Zoopla indicate that the UK average house price rose to £266,600 in January 2021, the sharpest increase since April 2017, London has still seen a slow climb when compared to the rest of the UK. However, with the vaccine roll out set to have the UK fully vaccinated by September 2021, and the lockdown restrictions eased from 29th March – city life is likely to make a strong comeback.
Source: Halifax and This is Money
A bridge loan can be a great way to renovate or convert a property. Funds can released quickly, to allow works to start with immediate effect.
However, some tenants are choosing to stay in rented accommodation. We are living in a fast-paced world and renting simply provides flexibility. It gives the tenant the ability to change their location, space and increase numbers of bedrooms quickly, without the hassle of selling every time. These renters have started to look for more spacious and higher quality properties, as they are looking to spend more time in them – this in turn will affect landlords, and the types of properties that they will need to invest in to keep up with these changing demands. To make your property more appealing you can always look at using a bridging loan to help with any buy to let refurbishment needs you may have.
There is also the added benefit of not having the responsibility for maintenance and property upkeep. This is a particularly key benefit for older renters, who feel less able to complete the task themselves, and would rather spend their life savings on being looked after, rather than facing additional maintenance costs that could reach into the thousands.
Midlife-renters and their effect on the industry
When we think of the word tenant, the usual image that comes to mind is of a student or young professional. Whilst this age bracket has always taken up a large majority of the private rental sector, there is another sector that is on the rise. There has been a rapid increase in two age brackets. Tenants aged between 25 – 34 and 35 – 44.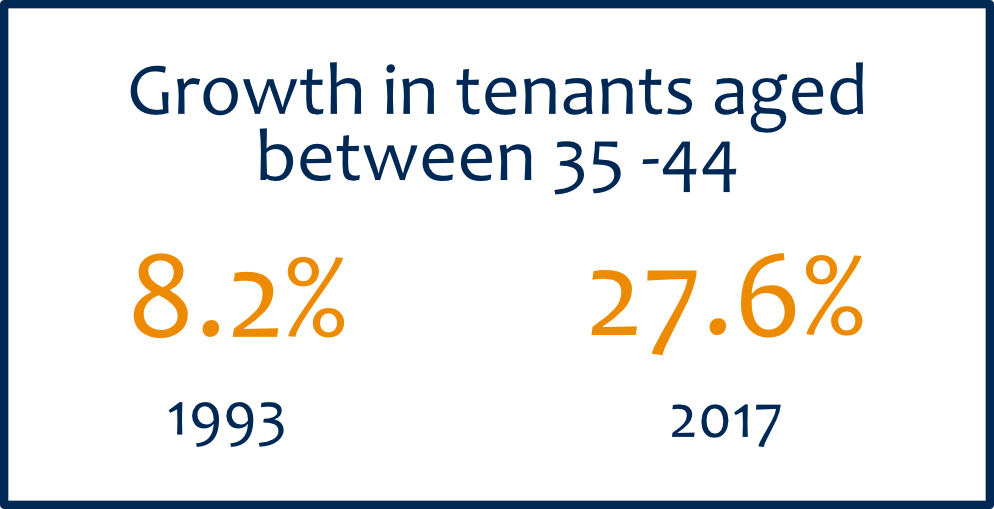 Office for National Statistics
The figures have risen dramatically for both age brackets over the past 24 years, but the sharpest increase has been with in the 35 – 44-year-old tenants.  But what does this mean for the BTL industry and how does this affect landlords?
Think Tenant
This rise of middle-aged renters is likely to affect landlords to a high degree.
Current property investors are mostly tailoring their BTL investments to cater to the 16 – 24 age bracket. Whilst they do take up the largest portion of renters in the private rental sector at 67.8% (2017), the increased amount of millennial renters and midlife renters, as mentioned above, does need to be taken into account.
There is a stark difference between what the younger renters – now Generation Z – look for in a property, compared to those aged 25 -44.
Many young professional tenants are happy to house-share or rent a studio apartment. Those in older age brackets may not be as forth coming.  Midlife renters are likely to be looking for BTL properties suitable for either a family, or a spacious multi-roomed apartment. As salary generally increases as you get older, whilst they may not want to save for a property, they often can afford a more luxurious option, in commutable distance to their place of work.
More 'life-time' renters could therefore increase the desire for spacious apartments, or properties to rent should they need room for a family. This can already be seen in the ONS latest figures for the private rental market summary for England between October 2019 – September 2020. The figures show an annual increase of 2.98% for the median monthly rent price for two-bedroom properties, the largest increase among rental property sizes. It was closely followed by three-bedroom properties, which saw a 2.58% median rise. With these larger properties of interest to lifetime renters, the demand for these properties could be seen as one of the key boosts to the property prices.
Source: Office for National Statistics 
Bridge to let
Whether you're purchasing BTL properties or looking to convert a residential asset into an HMO, the growth in the private rental sector is clear. But which bracket should you be gathering for? Young professionals (16 – 24) still maintain the largest sector of the in sector, taking up 67.8% of the market in 2017. They were followed by 25 – 34 at 43.7% and 35 -44, who take up 27.6% of the sector. As mentioned earlier, the increase in these mid-life brackets is rising at a quicker rate than the young professionals.
With such a competitive market, we can help you purchase investment opportunities with our fast and flexible bridging loans. As funds can be with you in as little as three days, a bridge to let can insure you can get tenants in your property as soon as possible and take the upcoming months to gather the necessary proof ready for long-term finance.
If you're interested in expanding your property portfolio and acquiring a range of buy-to-let assets to potentially cater for mid-life renters, contact our team today or check out our residential and buy-to-let product.