To begin taking steps back to normality, the UK started reopening restaurants and pubs earlier this month, to help small businesses and the economy stay afloat. There is still a strong sense of hesitation to venture outside, as talks of a potential 'second wave' become the latest hot topic. However, there are plenty of reasons to be optimistic about property.
How will bespoke bridging loans help support changes in the property industry?
Over the course of lockdown, we listened as Rishi Sunak divulged his plans to keep the property market positive for potential buyers. His strategies are set to help boost the economy and reduce stress for those facing employment changes.
One of the major changes for the property market has been the stamp duty changes. With the threshold to pay Stamp Duty Land Tax (SDLT) now at £500,000, instead of £125,000, we should see an increase in sales. This will not only boost the property market but increase business for the financial industry too.
With Nationwide's Q2 figures indicating a drop of 0.1% in the annual price growth in June, now seems to be the ideal time. The reduction could see up to 90% of sales released from the burden of SDLT.
Our CEO, Paresh Raja, commented on the stamp duty holiday on Property Notify:

The demand for property is back on the rise and prices are remaining steady.
Despite quarantine and continuous disruptions caused by coronavirus, there has been increased interest in property, with 71% of surveyors reporting an increased amount of new instructions and an 80% increase in potential buyer enquirers, says a RICS survey from June.
There is also evidence of a strong rebound from TwentyCi July data, as their numbers show a 36% increase when comparing to the same time last year.
How is the London market faring?
Even with the above measures, London remains lower on sales with property purchases declining by 1.4% during May, taking its annual decline to 5.1%. But there is still confidence that London's growth will return soon enough. With lower interest rates and the increase in stamp duty threshold, investment in the capital may start to rise again soon.
For the time being, this could potentially open doors for investors to snag some capital asset bargains. Especially as the portion of the market that has seen the largest increase in deals since the end of lockdown has been for London's sub-£1million properties.
What does this mean for London, in the long-term?
London prices are still holding strong. But with more people looking to move out to the country, there could be fantastic investment opportunities coming up, if you are able to move swiftly enough.
Bricks and Mortar continue to be a steady and reliable investment choice. We are here to support buyers with fast bridging loans. Giving quick access to the capital they need to move forward with their investment plans.
Our bespoke bridging finance means we're able to customise your loan to suit your particular needs. Contact us here to speak to an underwriter directly.
The rise of rural
The property type that has nationally seen the largest growth in the last 3 months leading up to June, has been country homes valued over £5Million, with the property markets' second quarter seeing a 1.2% rise in price.
You can understand why.
After being stuck inside for the last four months, city dwellers are beginning to focus their attention on more rural areas. They are starting to value a nice place to work from home with lots of space, over a shorter commute. This also allows them to have access to good schools, and a garden in which to sit and relax in the fresh country air – away from the built-up cities.
In early 2020 here at MFS, in a world before coronavirus, we conducted a survey for property investors which highlighted key cities in the UK. It was based on the percentage increase on the average price of a residential property. We found that average house prices were already growing at a strong rate in the areas outside of London, with the higher increases being in the northern region, in Glasgow, Manchester and Leicester.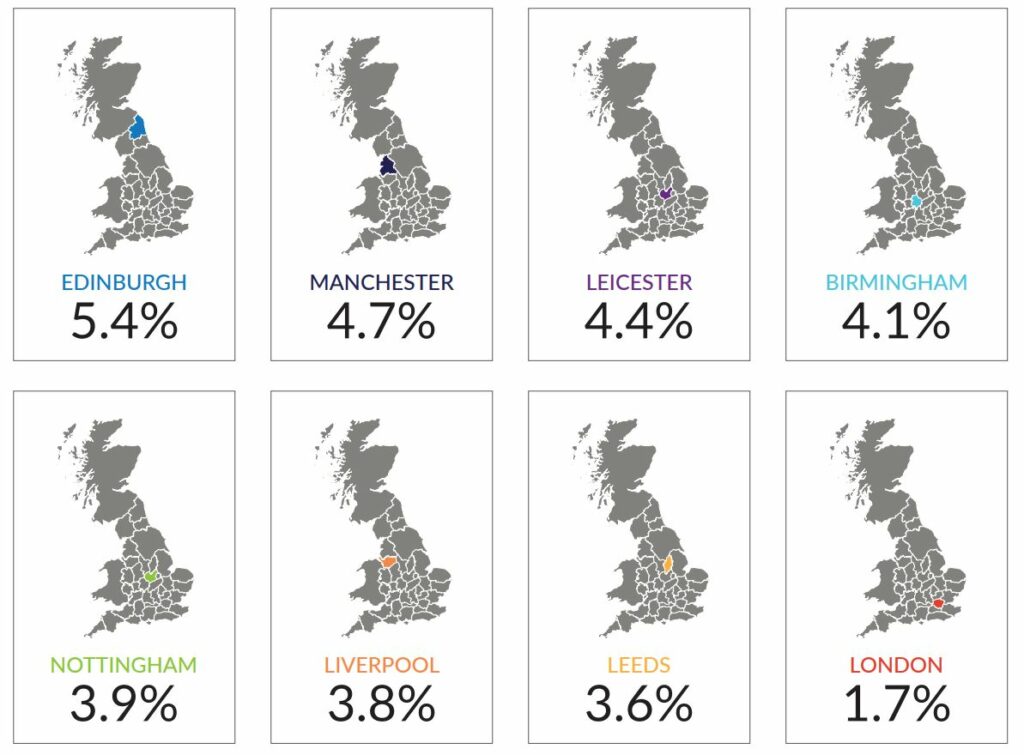 With more interest heading outside the capital, it will be curious to see how this plays out over the coming months and whether these increases in average price will take a sharper incline as part of the 'new normal'.
Could the change in the stamp duty threshold be the nudge many investors need to pick up some Northern properties? With lower prices for larger assets, and plenty of lovely countryside right on the doorstep, our Northern region could begin to see a 'new normal' boom.