Homebuyers are still flocking to the market looking for new property investment opportunities. With calls to extend the stamp duty holiday currently not proving fruitful, potential buyers are looking to purchase before the deadline at the end of March 2021. But it's not just residential properties that are in demand. Ranging from buy-to-let purchases to commercial investments, people are on a property purchase hype.
Areas with the strongest regional growth appear to be both the North and South West, which have seen a rapid rise in house prices. The South West has risen by 6.4% whilst the North West follows closely with 6%, as shown by the Office for National Statistics. The money saved on the SDLT holiday seems to show that buyers are willing to spend more on the property, rather than just save the money.
Source: Office for National Statistics
But there's another new trend emerging for property investors. Many appear to be moving towards buying a large, cheaper property that is in need of refurbishment, and using the money saved on stamp duty to completely renovate or convert it. According to Checkatrade, 33% of homeowners plan to use the savings from the holiday to fund a renovation. The same survey found that 59% plan to purchase a "fixer-upper" – a property in need of repairs.
Source: Homebuilding
COVID-19 is changing what buyers look for in a property. Pre-pandemic, a central location and being close to work played a big part. This was particularly true in urban areas. But over the course of the year, there has been a specific class of property that has taken the lead in property sales since the start of the year.
Get out of Town
The BBC's recent article uncovers that the recent rise in house prices is down to peaked interest in rural areas across the South West of England. Coronavirus is getting the blame for being the cause in the recent change of potential buyer mindset. Buyers are looking for larger properties, both inside and out. With urban properties limited on these elements, the countryside has grasped the attention of many UK buyers.
Source: BBC
When Covid-19 cases began to rise, homeowners started to feel unsafe in the densely populated areas of the inner cities. This prompted former city lovers to pack up and embrace the UK countryside. For half the cost of a London apartment with a communal courtyard, city dwellers realised they could purchase a well-proportioned country home with a tennis court, double rooms, and a vegetable patch.
With the addition of working from home (WFH) becoming part of the 'new normal', buyers are prioritising bigger properties, in which they feel they will be happier to spend more time in. Access to mainline stations had once been a highly valued factor for commuters, but with WFH now looking to be a permanent or semi-permanent part of many employee's job roles, the need for a home office seems to be overshadowing the desire to be in walking distance of a rail line.
Countryside Convertions
Since the end of the initial lockdown, countryside homes have soared in popularity as buyers look outside of major cities and towns. Decreased time in the office means that homeowners are willing to increase travel time. Property conversions in the country are therefore becoming more common.
Below are three of the key property conversions you could consider if you're looking to jump on board the countryside bandwagon:
Farmhouse refurbishment
Country house renovation
Barn conversion
These rural homes often offer beautiful scenic views, large rooms with high ceilings, and the occasianal exposed beam.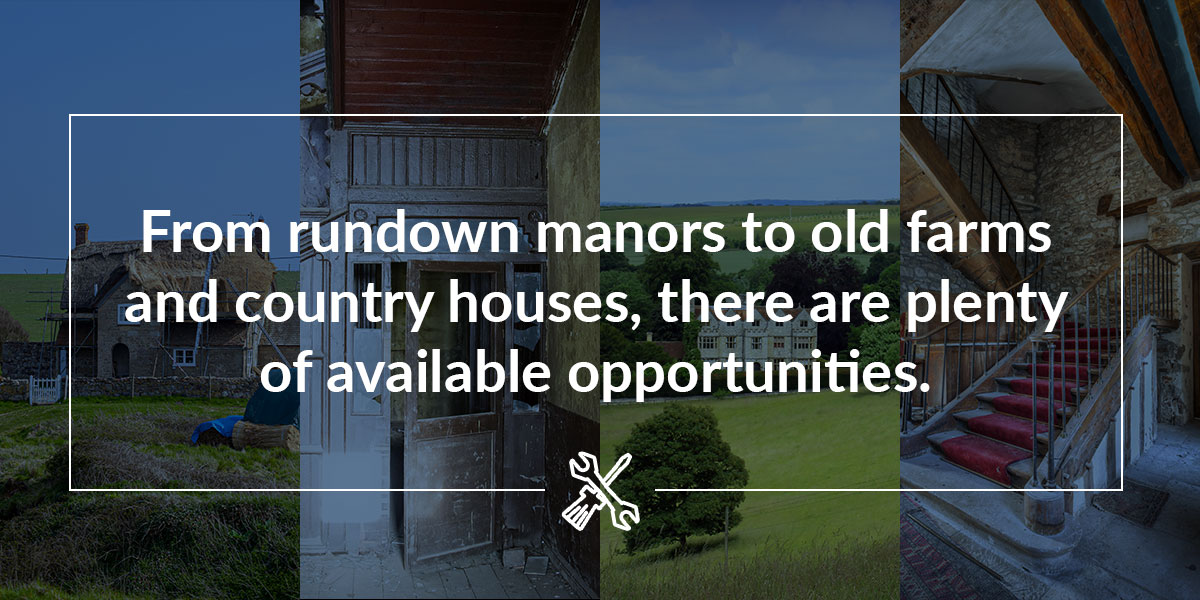 Since the pandemic, auctions have taken a virtual step, and the demand for online property auctions is growing. If you're interested in property auction finance, check out our auction loans page for answers to commonly asked questions and what you should consider before buying a property at auction.
How to Finance a Property Conversions with Bridging
With time running out, demand for bridging finance is rising. The speed and flexibility of bridging loans means buyers are not a risk of missing the holiday deadline, even if their circumstances appear complex.
At MFS, we offer short-term finance for conversion projects. We've noticed the increase in demand for refurbishment and conversion loans and regularly arranging refurbishment finance to fund such projects. The latest Mintel report predicts refurbishment to be the most popular use of a bridging finance by the end of 2020, taking up 22% of the bridging finance market.
Buyers are looking to take advantage of the stamp duty holiday. As a result, brokers and buyers are after finance that can be deployed quickly. That is why MFS works closely with its clients to offer tailored loans.
If you or your clients are planning a conversion project in the country, contact us today. Our team of expert underwriters are highly experienced when it comes to bridging finance for conversions.